Explore Chartway Group
Family find their forever home at new Kent neighbourhood
Tuesday 9th July 2019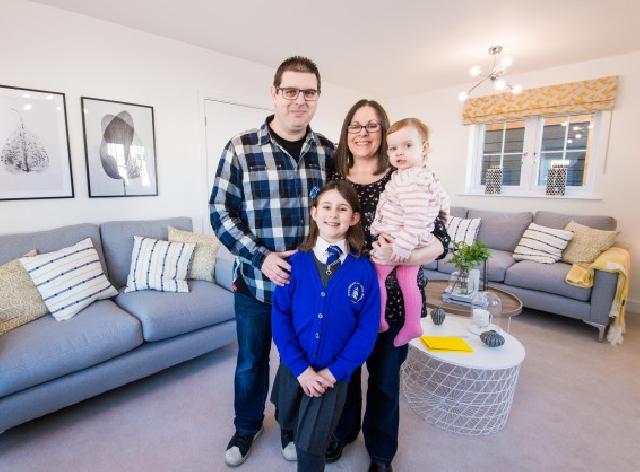 One of the major reasons for people moving house is to have more space1, particularly for growing families. Simon Head (42) and his wife Anna (40), were living in Walderslade Woods with their two young children and were looking to buy a larger house that allowed Simon to work from home and accommodated their busy family.
"As our family started to grow, we knew we needed more space and were keen to find somewhere with a community feel where our children could flourish in a family-focused environment."
Simon and Anna had been keeping an eye on Peters Village – a new community being developed 10-minutes away on the east bank of the River Medway that's set to rejuvenate the area by transforming a former cement and lime works into a highly desirable neighbourhood. The village includes new homes and a highly-rated primary school with plans for shops and a medical centre. From their first glimpse of the community, Simon and Anna knew this was where they wanted their forever home.
After enrolling their eldest daughter at the school, Simon and Anna began looking at the various homes for sale and were striving to find a place that catered to all their needs. They finally found the perfect property and purchased a three-bedroom semi-detached house at Evabourne – a collection of homes part of the Peters Village project developed by award-winning housing association Hyde New Homes, in partnership with Westerhill Homes.
"We were struggling to find something that meant we didn't have to compromise on space for the whole family," Anna says.
"We wanted the right balance and Evabourne gave us the opportunity to have this due to its large bedrooms and kitchen/dining areas. The separate home office also meant that we didn't have to give up some of the wonderful garden space or save some of our budget to build Simon his own office."
The large space is giving the whole family the opportunity to get stuck in with the move too. Delighted with the high specification throughout the home, including the spacious living spaces and sleek interiors, Anna is particularly thrilled with the move.
"We're all excited about this fresh start and the chance to decorate and furnish our own home around our lifestyle and preferences," she said.
"I'm particularly looking forward to using the spacious kitchen to entertain the family and guests. Adding personal touches around the house will also be a fun and interactive process for the family to get involved in together – we have a great template to work with the contemporary interiors and generously sized rooms. Even the girls are ecstatic about being able to pick their own bedroom furnishings and use their grown-up en-suite for the first time!"
Alongside the house itself, the local community was a big factor for the couple: "We're so close that we'll be able to walk the children to school and playgroup down the footpath instead of the usual school run rush," said Anna.
"The school here is fantastic. It is really family-centered and that was a big factor in our decision. The forthcoming shops and medical centre will also be great to have on our doorstep. We're local to the area as both of our families live around Rochester and Maidstone, so being close to them while giving our girls the chance to enjoy their independence as they grow older is fantastic."
The development is just 20 minutes from the historic town of Rochester, boasting its bunting-wrapped picturesque high street with local cafes, restaurants and boutiques. Maidstone is 15 minutes away and home to Fremlin Walk, a large shopping area with major high street brands and restaurants. Adding more convenience, Peters Village is in prime location for transport links into London, which was also a major draw for the family.
"Simon occasionally needs to travel into London for meetings and before Peters Village was built, it was a badly connected area and hard to access," Anna explained.
"Now, all he'll have to do is walk around the corner and take the commuter coach straight into London."
The M20 and M2 motorways can also be accessed locally, which feed onto the M25, whilst across the river, Snodland and Halling stations provide rail connections to the surrounding towns. Both stations also allow travellers to board high speed services to London's St. Pancras International, arriving in the Capital in under an hour.
Simon and Anna were also very impressed with how easy the purchasing journey was, thanks to the help of the Evabourne sales team: "Hyde New Homes and Westerhill Homes had great customer service and were regularly in contact unlike other companies we have used before," said Anna.
"We also used their recommended lawyers which simplified things even further by cutting out the middle man. Our new home and surroundings are just brilliant – we're so happy to finally be here."