Explore Chartway Group
When your first home is 'Walk-in ready'
Tuesday 9th November 2021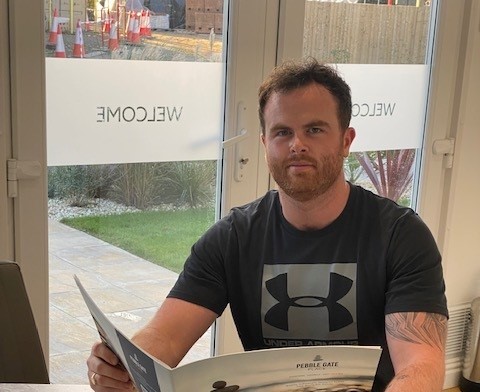 Matthew Holmes has been back home living with his parents in their family home in Deal,saving for his deposit,and found the perfect home at Westerhill Homes Pebble Gate Place development in Sandwich.
Working at Eurotunnel in Cheriton, as an Electrical & Mechanical Technician, he wanted a fuss-free move where all his questions were answered, and he has been able to experience that with Westerhill Homes introduction to Threshold Mortgages and Cook Taylor Woodhouse who have taken care of his mortgage requirements and legal side of buying his new home.
'Being a first time buyer and using the government-backed Help to Buy Scheme, I had a lot of questions and have been given a very good service, and a particularly good mortgage interest rate which will really help me when I move into my new home at Pebble Gate Place', says Matthew.
He was attracted to The Pebble 1 bedroom home as it had a garden and drive, and included lots of expensive extras in the specification which he feels made it a 'walk-in home' straight away.
' As my new home includes carpets and appliances, I won't have to save more money to buy them, so I can buy some furniture straight away. My friends and family live in Deal so I'm not far away, but Pebble Gate Place offers me a quieter location. It's still really easy to use the train as the station is nearby, or it's just a short drive back to see them. I'm really pleased that I'll have my own garden and a drive as well, something I definitely wouldn't have got if I'd bought something in Deal', Matthew said.
Matthew has already exchanged Contracts on his new home at pebble Gate Place and is looking forward to moving in, in early spring.